The need to be flexible.
I am thinking about the past couple of months since my last post and so much has happened, I will have to consider my news in sections.
The flexibility aspect will become clear as you read on.
First of all though I would like to wish you well. I hope that wherever you are, that you are well, comfortable and don't have too much stress in your life. Thank goodness for knitting and support from family and friends!
I have been very busy on the knitting front. I have three works in progress (WIP)s at the moment. A lovely white 4ply secret item that will be posted later. We expect another grandchild in November so it is in anticipation of this new arrival! Very exciting! I also started knitting my beautiful Jaki Bogg kit of the "Wednesday" cardigan and will include a photo of where I am up to.
This was started before we started having some dramas in our life, and so I had to reluctantly put it down and pick up something less complicated to keep me sane. This was easily transportable so could travel to the hospital with me.
My husband Mike and I had a fabulous holiday in the South of Wales on the Gower Peninsula – why have we never been here before? It was breathtakingly beautiful and we will return. While we were there Mike had a "twinge" in his right side. He put it down to a pulled muscle and said it will wear off. It didn't but we carried on despite him being in pain and me being unaware how sore he was. We returned home, prepared for The Wool Monty show and never got there. Mike's pain became more intense and he started to have a high temperature – 38.4 degrees C. To cut a long story short, – sorry for my nursing and medical friends – he ended up in hospital, on intra venous antibiotics to treat a ruptured appendix, appendicitis, peritonitis and septicaemia. His cardiac enzymes were so high with the sludge that was in his blood stream the medics thought he was having a heart attack at first. He had 24 hours of IV antibiotics, fluids and morphine, then had emergency surgery including a washout of his abdomen.
His recovery took some time, he slept most of the time and lost over a stone in weight. He was still in pain for some weeks and only really began to feel more like himself after 8 weeks. He had a gradual return to work and in the meantime, I did everything I could to promote his recovery. The surgeons explained how close to sepsis he was and that it was one step away.
Luckily, he now has his sparkle back and is beginning to potter about. He was particularly happy when we had ALL of our grandchildren for a sleep over! Great fun. We had organised activities for them and they LOVED it. We had a treasure hunt in the home where they had to work as a team, and follow a series of clues to find the treasure! 4 boxes of dinosaur bones to excavate from a rock of plaster. Then they had ceramic money boxes to paint. Luckily the weather was gorgeous so these were done in the garden. We settled off the two young ones upstairs before erecting a sleepover dinosaur tent in the lounge with matching lights and torches for the two eldest (7 years old). They had sleeping bags and inflatable air beds. Great fun.
The following day we had an adventure planned
. We went for a "big" walk across Wetley Moor Common to Mike's brother Tim and his wife Brenda. There they met the cows and had tractor rides. The delight on all of their faces as they steered the tractor around the field was a joy to behold! We went into the kitchen for drinks and biscuits and then after a wonderfully exciting time, walked back but made a slight detour, visiting our local shop for ice-creams. We had lunch at home and Mike and I were shattered. The kids all went in the garden, running around and playing with the sand pit and dinosaurs! Oh to have all that energy! Thanks to Tim and Brenda for the exciting experience! It couldn't have been any better and the two youngest wouldn't stop talking about it!
Due to the change in Mike's health, we had to change all of our holiday arrangements, we were going to Scotland, touring in our caravan, and spending a week on the isle of Arran, but we had to re-arrange this as the driving would have been too exhausting for him. We have a long caravan and I aren't confident enough to tow it. We went to our favourite place in the Yorkshire Dales, and I did all the heavy work. (Not that heavy, but things such as fetching the water and emptying the toilet cassette). Mike's job was to rest with gentle walks only. I was having a lovely time knitting my Jaki Bogg Wednesday cardigan. We planned activities that didn't involved a lot of energy or movement. We went to see the Van Gogh experience in York, had Afternoon Tea on a barge cruise from Skipton and other such relaxing events! Mike was beginning to pick up, not needing as much of the painkillers and slowly started to reassure me that he was ok carrying the shopping bags and walking a bit further.
By the second week we managed to walk from Grassington to Kettlewell over the tops. This was glorious, and I shall include some photo's. My knees really suffered though and walking down the final quite steep slope to the road was agony. I need knee replacements but am apparently "not ready" yet as I can walk on the flat quite easily. Stairs, steps and slopes are another matter!
We had an emergency phone call from Mum's caller alarm service  during the holiday, she had had a fall and the ambulance was on its way. She was conscious and talking but unable to get up off the floor. I explained we were in Yorkshire and would they contact the 2nd person on her system, Cheryl, her lovely next door neighbour. We packed up and came home.
Mum had fractured her pelvis and sacrum which didn't become apparent with the first ambulance visit, but she deteriorated so I requested another one at 3.00pm. This was agreed and we waited 16½ hours until 7.30 the following morning. Mum was taken up and after a couple of days in A&E, went to the Haywood Hospital in Burslem. The staff there are absolutely fantastic, so a big thank you to the Scotia Team. Obviously, during this time The Knitting Companion activity was put on hold. That is the beauty of working for yourself, you can be flexible. Our family comes first and so other things can wait. I was trying to complete the final touches of the new diary and knitting file – to be mentioned later!
Mum is able to walk with a zimmer frame and her home has had to be adapted to accommodate her needs. She is needing increasing support as time goes on and we are anticipating the day when her needs cannot be met living independently. Until that day, we are doing everything we can to make her comfortable and supported. It is a blessing that we live around the corner from her!
During her time in hospital, I was due to go on holiday with my sisters, Helen and Julie. I was torn about whether I should leave Mum but she was adamant that we go. Our original date was the date Mike had his surgery so we cancelled and rearranged.
The fact that the same holiday in peak season was over £1000 more expensive was bit of a concern, but Mum paid the difference insisting that we have the opportunity to take Julie away. It was absolutely brilliant, totally relaxing and lovely spending quality time together.
We went to North Wales where we have had many holidays in our childhood and spent time reminiscing about our late Dad. He loved to sail around the Welsh coast and was passionate about photography, trains, mountains, swimming, and generally having fun. A common statement was "Dad would have loved this!" Thank you to Mum for paying the huge difference in the cost of our week away, we really charged our batteries up and Julie loved it!
Now for Knitting Companion news! Our next show is our local, at Bakewell Wool Gathering, we live near enough to sleep in our own bed and travel to the venue. I have a few special items to make as it is a special celebratory show this year! Their 10th birthday and so they have a lot of special things for the visitors! I can't wait. Luckily I have a full stock of items, including the 2 new additions so don't have too much preparation to do. Missing The Wool Monty through Mike's emergency surgery meant that we were stocked up. I would highly recommend Bakewell Wool Gathering, it is very wheelchair friendly which is an obsession of mine as my sister Julie is in a wheelchair. After walking around the show you can walk into the town which is across the bridge over the river and have lunch in one of the many eateries. When you have stretched your legs, come back and have another look! It is one of our favourite shows and we always love it when our customers come back and chat to us. It is great catching up with the other vendors too. The lovely thing about the timing of this show is that people are beginning to prepare for winter, and goodness knows, this winter we will be needing our woollies more than ever! I always start my Christmas shopping around October too, and so it is great to pick up some unique, quality, bargains!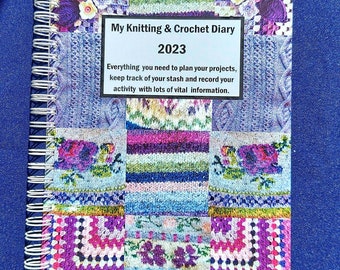 After listening to your comments at the shows, we have been very busy and produced a new diary for 2023! This one is for knitters and crocheters too! So many of you said that it was difficult to choose because you wanted both! Well now you can have both in one diary!
There are lots of added extras too! All your favourite useful sections are still there with some inspirational, anecdotal or humourous comments for every week.
There are lots of your favourite features and extras too such as: –
Personal information page
Annual project planner
Welcome introduction
Diary – week to a page with inspirational and humorous quotes at the base of each page
Essential information about yarns for knitting and crochet
Pages of advice
Mindfulness suggested breathing space
Stash record
Needle and hook inventory
Space to list podcasts, blogs, yarnshops, yarn shows and workshops for you to explore
Standard size measurement tables
Tables for you to record measurements for your projects
Blanket sizes
Record for your blankets produced
Knitting project pages (for when you don't have your "The Knitter's Companion" with you)
Crochet project pages (for when you don't have your "The Crocheter's Companion" with you)
Graph paper for planning & construction
Graph paper for knitting intarsia or fairisle planning
Contact details
Shopping lists!
All this is in a wire bound format to match the other notebooks in our range.
When designing it I wanted to make something that was attractive and very useful, something that I would really enjoy and appreciate. I hope you like the result! These are available in our etsy shop and retail at £9.99.
We also have a pattern file with a coloured index sheet, dividers and plastic wallets to keep your patterns safe and clean. This is also following your requests and it matches the new diary! The pattern file is also available in our etsy shop and costs £7.49. These will be available at our next wool shows "Bakewell Wool Gathering" and "Kendal Wool Gathering". They make a wonderful present or why not keep yourself organised and purchase the set! They are reduced when bought together – only £16.00 at time of posting!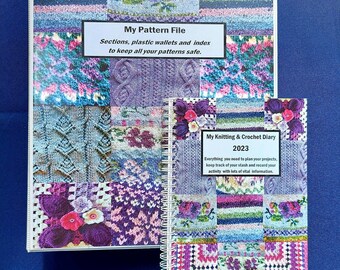 https://www.etsy.com/uk/TheKnittingCompanion/listing/1319059135/diary-and-pattern-file-matching-set?
We have a number of shows that we are interested in exhibiting at next year. We shall confirm these when they we know if we have been accepted. Every show has to be applied for and the organisers have the job of making sure that the customers have a varied and top quality choice of exhibitors.
This weekend is Bakewell Wool Gathering and at the end of the month is Kendal Wool Gathering! Both lovely events in lovely towns.